---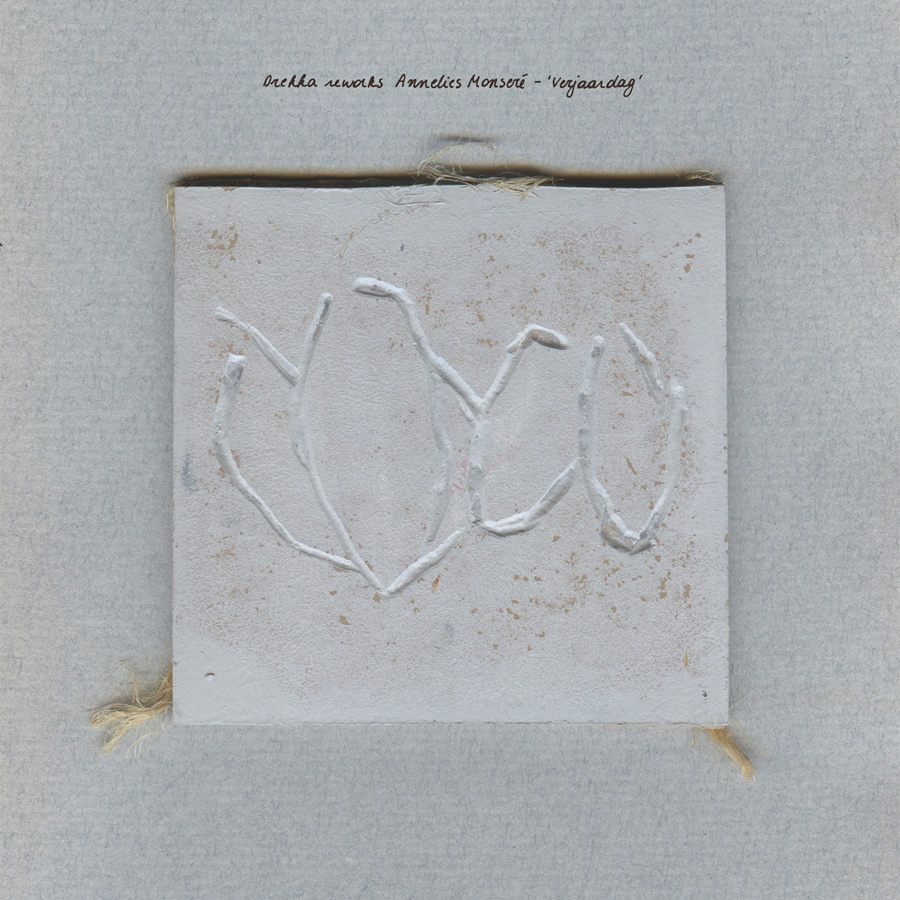 DREKKA reworks ANNELIES MONSERÉ - 'Verjaardag' LP
(Bluesanct, INRI080, 656605968018)
LP w/ insert + download
edition of 250 copies
RELEASE DATE - MAY 27th, 2016
MAILORDER PRICE - $12.00 - ORDER NOW

DREKKA reworks ANNELIES MONSERÉ - PRESS RELEASE
[ LISTEN VIA BANDCAMP ]
Appearing prominently on many of DREKKA's releases, including both recent DREKKA LPs for DAIS RECORDS, Belgian singer, ANNELIES MONSERÉ has long been a collaborator, muse, and source material for DREKKA's sonic explorations and dream-cinema soundscapes.
Primarily the work of Mkl Anderson, DREKKA's sound owes debts to the poetic soundscapes of CINDYTALK or COIL, to the ARTEMIEV soundtracks for the films of TARKOVSKY, and to the gravity of early industrial acts such as EINSTÜRZENDE NEUBAUTEN.
To form his cinematic soundscapes, Anderson often delves into his archive, digging up forgotten snippets of the voices of friends, some long gone and some present still. Listening to DREKKA is like observing the process of remembering. Each old cassette handled, each sound manipulated is a moment of memory, an association made.
Although sourced from the original recordings that Annelies Monseré made for her second album, 'Marit' (2009, Auetic), this is not a record of remixes. Anderson reworked and embellished the original recordings in Ghent, Belgium and Bloomington, Indiana over the course of six years, beginning three years before 'Marit' was even mixed or released.
The result is a novel kind of collaboration. Monseré's plaintive, intimate vocals are couched in Anderson's extremely textural, almost somatic collages, leaving us with the sense of a daydream, comfortable and somehow nostalgic. Monseré's haunted piano, occasionally sounding like it was lifted from the most elegant HOWARD SHORE film score, is a patient voice in an urgent scene. VERJAARDAG feels like a lost record, long forgotten and rediscovered, although it has just been made.
The album features guest appearances by NATHAN AMUNDSON (RIVULETS), JESSICA BAILIFF (KRANKY RECORDS), ELLEN EVERS (PUDDLE PARADE) and JUSTIN VOLLMAR.

This release is part of the BLUESANCT 'ART VINYL' series; presented as 22 minute EP on SIDE A with a beautiful screen print of Annelies' handwritten liner notes printed on SIDE B. It comes in a full-color jacket with printed insert and download code and is limited to 250 COPIES.
Previous releases in the BLUESANCT art vinyl series have included CINDYTALK, MOUNT EERIE, BODUF SONGS, and PANTALEIMON.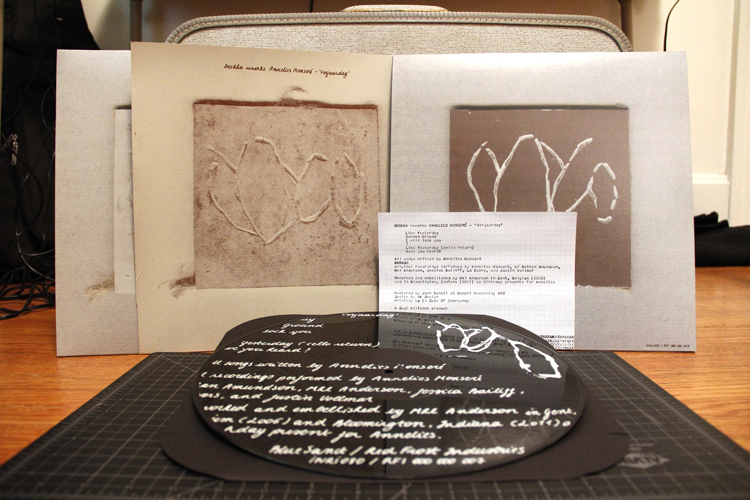 ---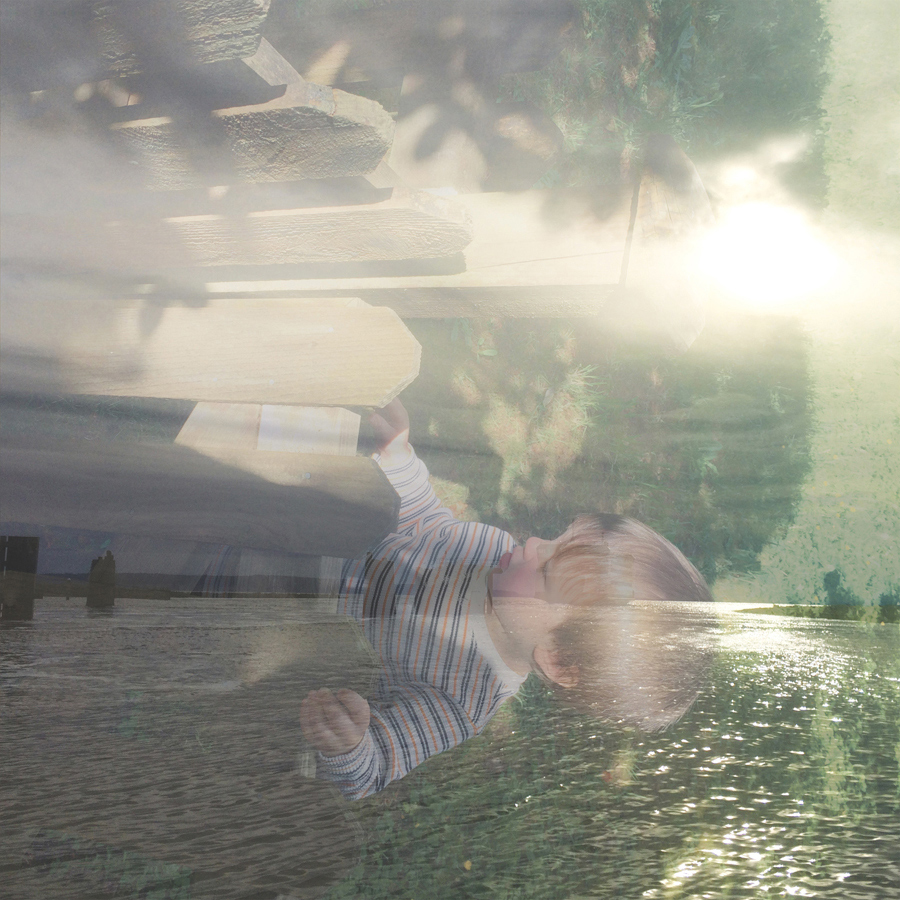 GOLDEN BRAID - 'Golden Braid' LP
(Bluesanct, INRI091, 656605969114)
LP w/ insert + download
edition of 300 copies
RELEASE DATE - MARCH 17th, 2017
MAILORDER PRICE - $15.00 - ORDER NOW

GOLDEN BRAID - PRESS RELEASE
[ LISTEN VIA BANDCAMP ]
The lacquers were specially cut at Palomino Records to play the record both forwards (SIDE A) and backwards (SIDE B)... full color jacket printed on recycled card stock w/ insert and download code... download includes bonus tracks containing the original source tapes used to construct the tape loops which form the GOLDEN BRAID
Ambient tone loop collage by Mike Adams (Crossroads of America, Burnt Toast Vinyl, Sounds Familyre, Joyful Noise)... assembled from original source tapes provided by Mkl Anderson (Drekka, Dais Records), Jared Cheek (Flannelgraph), Tyler Damon (Thee Open Sex, Tashi Dorji, Darin Gray), John Dawson (Thee Open Sex, Magnetic South), Greg Dixon (Quixod), Phil Elverum (Mount Eerie, Microphones, K Records), & Rachel Yoder (Madera Wind Quintet, Editor - The Clarinet Journal).

"I read an interview with Neil deGrasse Tyson a few years ago about climate change and his approach toward educating the masses on practical matters of science. In it, he referred to an "eternal golden braid" he is attempting to weave between science, humor, and pop culture. It's a noble and murky philosophy, entwining and elevating hard scientific data and history into the zeitgeist with Kardashian goings-on, and Comedy Central Roasts.
A few months after that, I ran into a friend of mine who was reading this enormous book called, Gödel, Escher, Bach: An Eternal Golden Braid. Apparently, it's an entire book about the similarities between math, symmetry, and logic, and how the rules and systems we apply to these ideas are what gives them their meaning.
Around this same time, I had become interested in creating and manipulating cassette tape loops. I had recently finished working on a more pop-oriented record with my name written largely on every aspect of it and wanted to be involved in some musical collaboration where I wasn't in total control. I contacted a short list of a few friends - folks I admired and thought would be receptive to the idea - and asked them for a five minute cassette tape of literally anything they wanted to record. Once I received all of the tapes in the mail, I made individual, random tape loops of varying length out of each of them. Then, using 6 cassette decks, a few effects, and a mixing board, I combined all of the sounds together into a 20-minute live mix. I did this process a few times (including before a live audience), before I felt comfortable enough to record it. Each performance is completely different from the last.
I can't necessarily explain why all these ideas seem so related to me, aside from the obvious touches of free association and timing. But, this record feels like a very specific snapshot of a time in my life, and of my relationships to a few people and the world I live in. I hope the way it feels and sounds combines with this information about how it was made to give it some sort of lasting meaning."
- Mike Adams, February 2017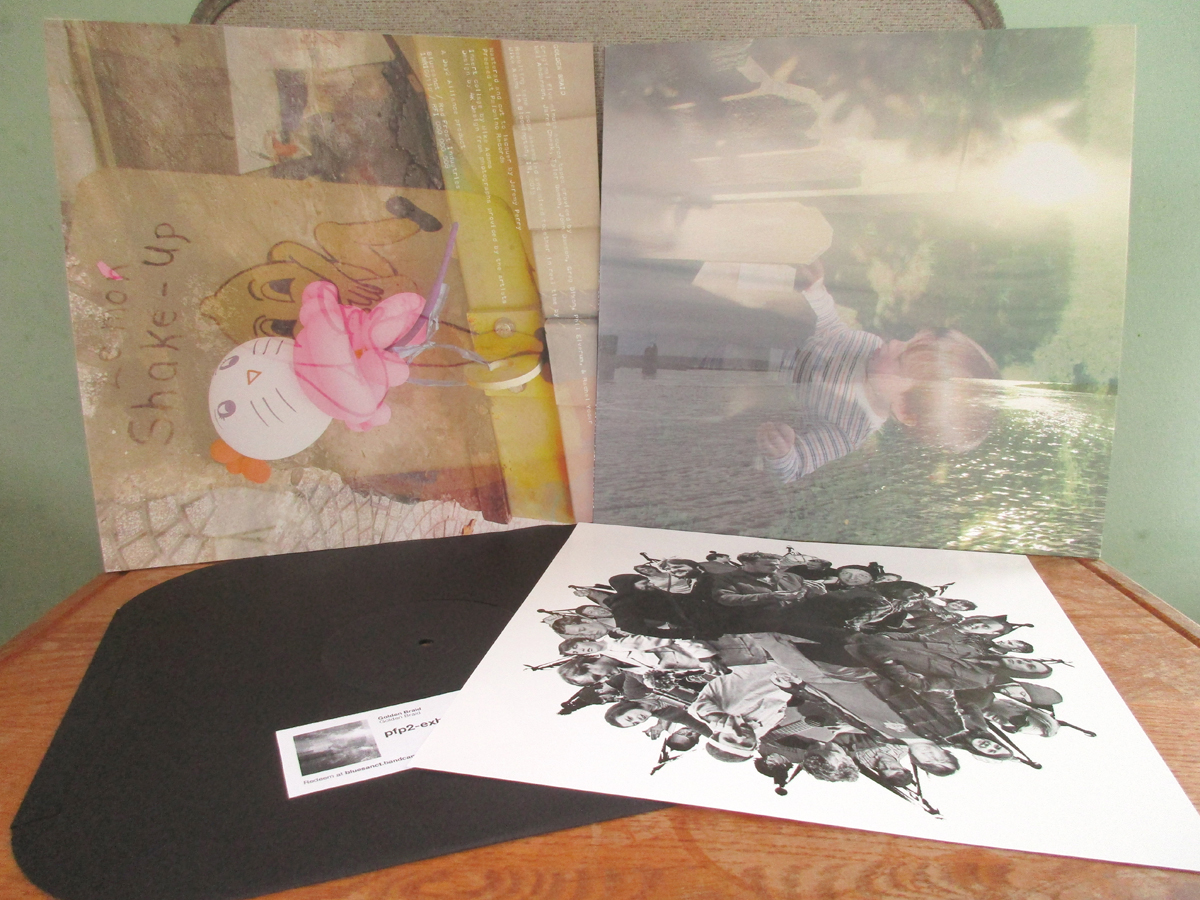 ---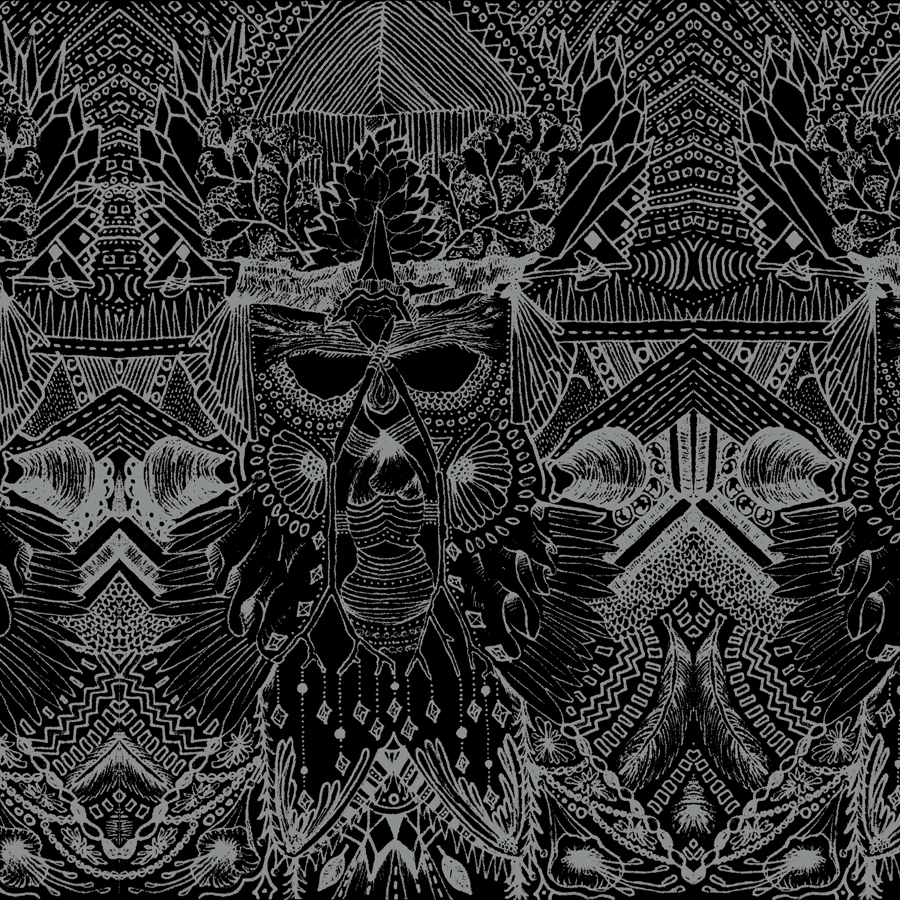 TIMBER RATTLE - 'Phantoms of Place' LP
(Bluesanct, INRI094, 656605969411)
LP w/ insert + download
edition of 200 copies

RELEASE DATE - MAY 4th, 2018
MAILORDER PRICE - $15.00 - ORDER NOW

PHANTOMS OF PLACE - PRESS RELEASE
[ LISTEN VIA BANDCAMP ]
OCT 2016, I am on tour in central Italy. Tomasso puts on a cassette while some late night drunken pasta is cooking on the stove. While I lay on the couch, floating in that post show liminal space between this day and the next, I am immediately and completely transfixed by the subdued sounds coming from the stereo, by its languid dirge processionals; part eulogy, part elegy betraying a vague longing to trade places with the departed. The next morning I ask to hear it again.
For weeks, I am humming the melodies in my head, in the van... even during my own performances. I ask around if anyone knows this band. Mark says he randomly played with them once in Croatia. Francesco says he just saw them in Prague and thought of me while watching them.
Eventually, I make contact with the elusive songwriter and we both agree it would be a nice idea to issue the cassette on LP... this album entitled "Phantoms of Place".
TIMBER RATTLE is a kind of "pyche-pastoral" hymnal which seems to be as informed by noise shows in west coast basements or the revolutionary spirit of poet Jean Genet as it is by a panoply of North American landscapes, such as the Blue Ridge Mountains of southern Virginia, where its members grew up. It is spatially both vast and intimately spiritual, seeking to create a reflective space within which to contemplate an individual and mutual encounter with nature; with the mountains, the forests, the deserts, the oceans... and the phantoms of experience and memory that haunt us in these places.
While never straying too far from a pastoral/folk sound that celebrates the environment and the arcane wild that surrounds us, the music also incorporates primordial elements of drone and psyche experimentation which focus on an intuitive exploration of tone, pattern, scale, and palette.
Lyrically, the layers of harmonies present a willful abstration on the relationships between land and bodies and life and death and magic and language and ritual and myth and space and cycles and animals and plants and food and poison... the sound and the shape of the words being equally important to any 'meaning' discerned from the lyrics.
A cohesive and quintessential offering, 'Phantoms of Place' is a meditation on physical space, place and tradition, and an exploration of the meaning of being human in the garment of living nature..
BLACK VINYL LP in an edition of 200 COPIES, w/ black and silver screen-printed sleeve, insert and download code, housed in a heavy duty library style plastic sleeve w/ re-sealable strap flap.
- Mkl Anderson, January 2018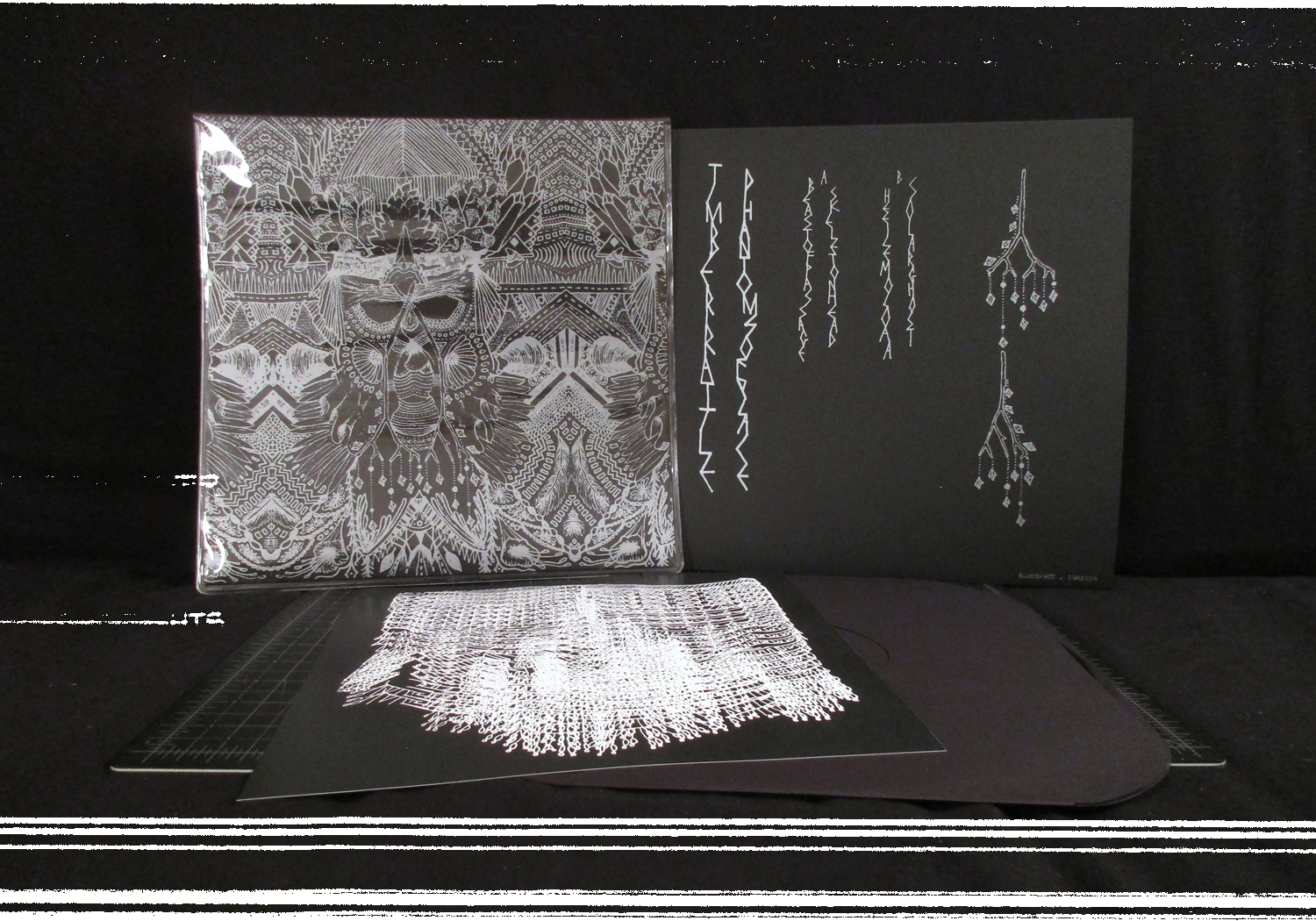 ---

STAY INFORMED:
up-to-the-minute info... 'follow' and 'like' us!
BLUESANCT FACEBOOK - http://facebook.com/bluesanct
BLUESANCT TUMBLR - http://bluesanct.tumblr.com
BLUESANCT BANDCAMP - http://bluesanct.bandcamp.com