---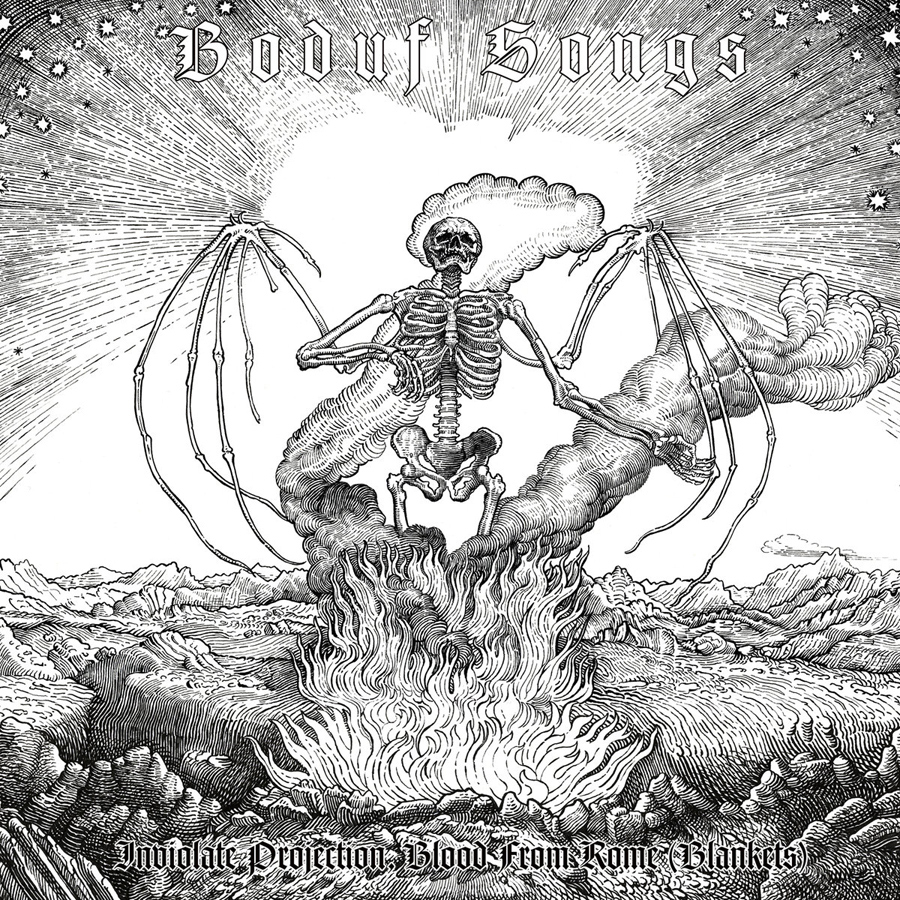 BODUF SONGS - 'Inviolate Projection, Blood From Rome (Blankets)' 10"
(Bluesanct, INRI088, 656605968810)
10" LP w/ download
edition of 300 copies
RELEASE DATE - AUGUST 11th, 2009
MAILORDER PRICE - $8.00 USD

BODUF SONGS - ORIGINAL PRESS RELEASE
"The fourth release in our ART VINYL series will be BODUF SONGS. This will be a beautiful single, with an exclusive recording on one side, and a screen printed image of the song on the other side... housed with a letter pressed sleeve.
BODUF SONGS is primarily the work of Mat Sweet, minstrels of misery from the United Kingdom. Boduf Songs have released three incredible albums on Kranky Records, as well albums on Southern Records, including an EP for the LATITUDES series.
Mat gave us an exclusive 12 minute epic entitled 'inviolate projection, blood from rome (blankets)' which not only gives us the drones and hushed guitar they are known for, but also ventures into their (partially) suppressed doom underpinnings.
The record is accompanied by gorgeous specially commissioned artwork by Norwegian artist, JOHANNES HOIE, whose apocalyptic scenes perfectly embody the yearning for the black sun that is Boduf Songs."

This long out-of-print 10" is back in stock for a short time and in very limited quantities.
---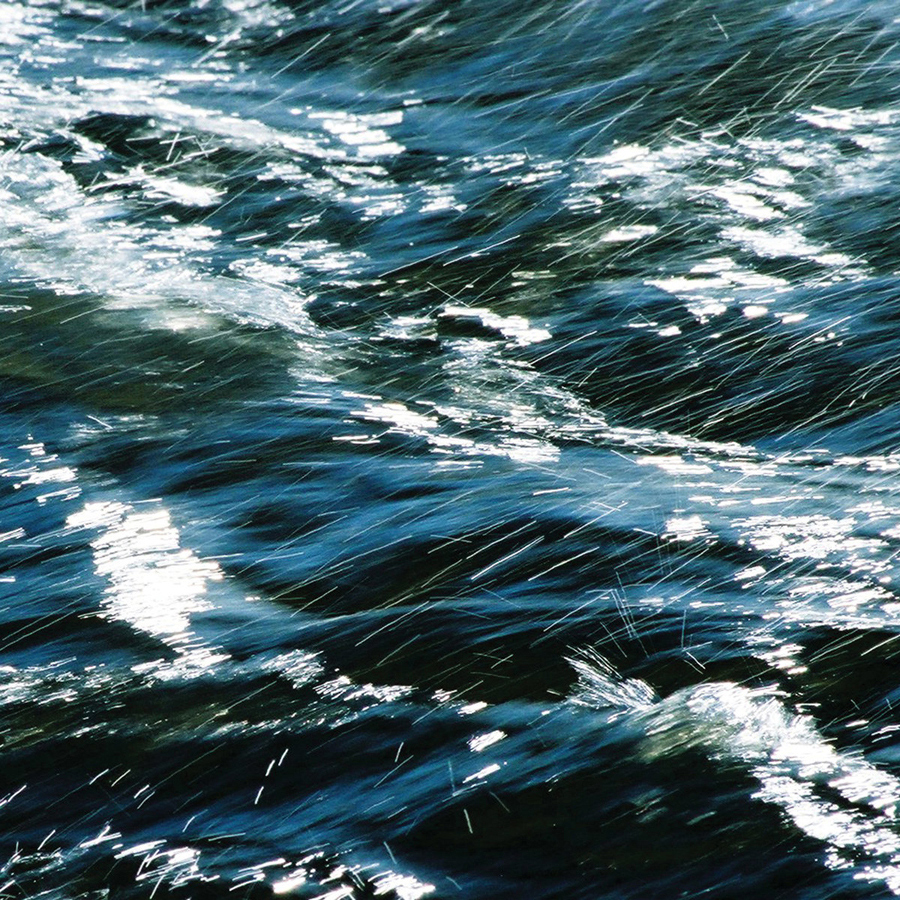 CINDYTALK - 'silver shoals of light' 10"
(Bluesanct, INRI084, 656605968421)
10" LP w/ download
edition of 500 copies
RELEASE DATE - OCTOBER 12th, 2008
MAILORDER PRICE - $8.00 USD

CINDYTALK - ORIGINAL PRESS RELEASE
"BLUESANCT is incredibly excited to announce that the third release in our ART SINGLES series is by one of our all-time favourite artists, CINDYTALK.
The concept behind this series is to celebrate the 10th year of the label with a series of releases that give us excuse to work with some of our biggest influences.
There is hardly a larger influence on my own music and art than GORDON SHARP and CINDYTALK.
'silvershoalsoflight' is quintessential CINDYTALK...
written and produced by GORDON SHARP and MATT KINNISON...
drum machine ticks along gorgeous bass pulses up against Gordon's vocals...
leading to a climax of bliss and dissonance.
For those not familiar with CINDYTALK, this is a sound that straddles several genres at once... ambient abstract industrial cinematic glitch post-punk... Gordon Sharp was at one time perhaps best known for lending her angelic voice to several tracks on the THIS MORTAL COIL masterpiece 'It'll End In Tears' (4AD, 1984), voicing seminal versions of Big Star's 'Kangaroo' and Rema-Rema's 'Fond Affections'.
Less known is the fact that she was also the original second singer for COCTEAU TWINS, her siren song calling in the background of their stunning Peel Session from 1983.
But those are nothing but a footnote in history for Sharp and Cindytalk... since the late 70's, she has recorded fiercely challenging albums of devastating beauty... and there is no end in sight."

This long out-of-print 10" is back in stock for a short time and in very limited quantities.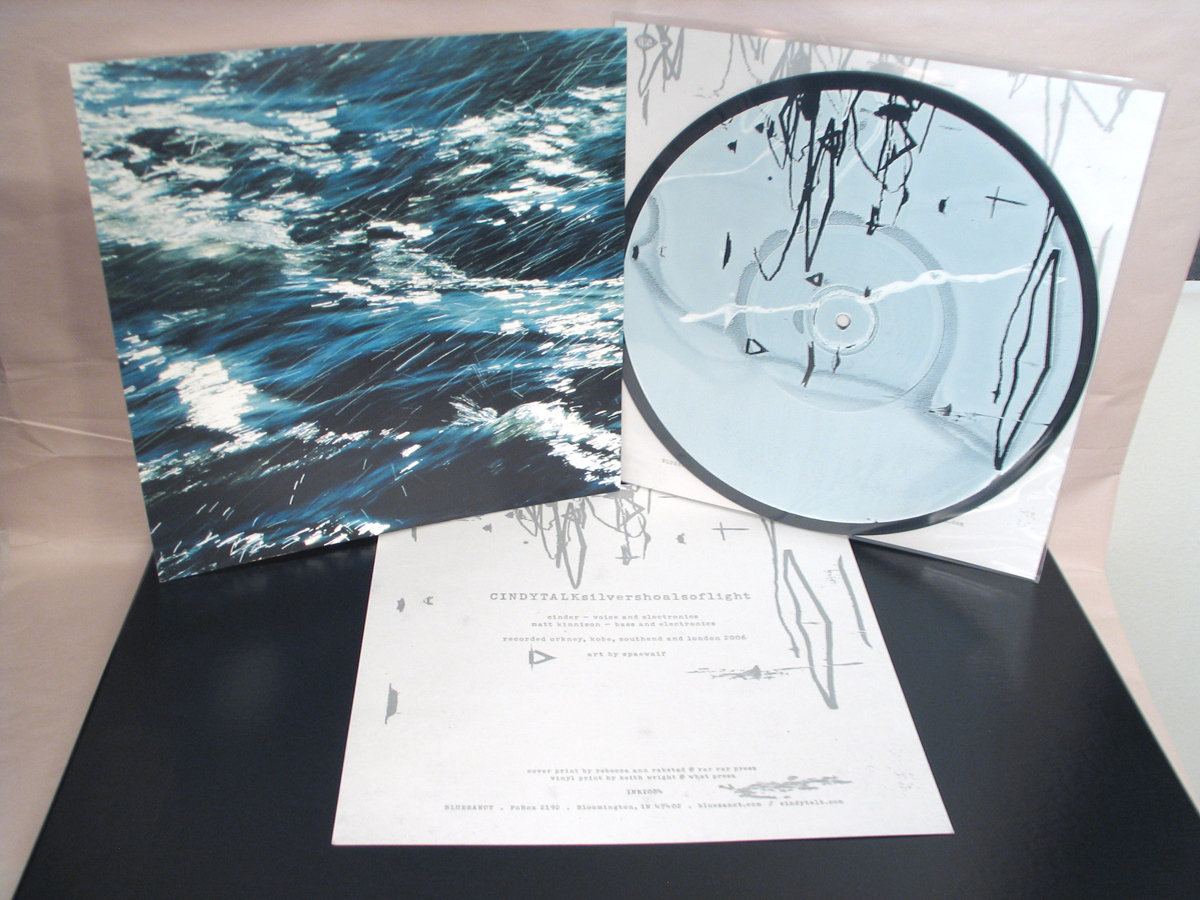 ---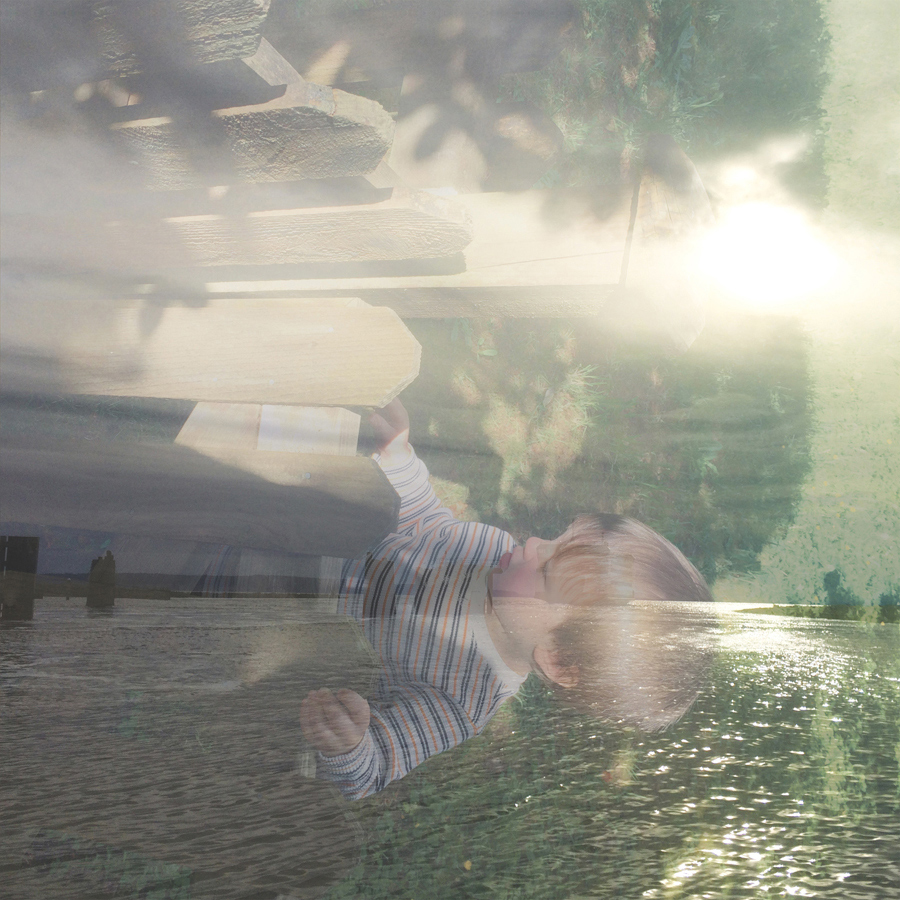 GOLDEN BRAID - 'Golden Braid' LP
(Bluesanct, INRI091, 656605969114)
LP w/ insert + download
edition of 300 copies
RELEASE DATE - MARCH 17th, 2017
MAILORDER PRICE - $14.00 USD

GOLDEN BRAID - PRESS RELEASE
The lacquers were specially cut at Palomino Records to play the record both forwards (SIDE A) and backwards (SIDE B)... full color jacket printed on recycled card stock w/ insert and download code... download includes bonus tracks containing the original source tapes used to construct the tape loops which form the GOLDEN BRAID
Ambient tone loop collage by Mike Adams (Crossroads of America, Burnt Toast Vinyl, Sounds Familyre, Joyful Noise)... assembled from original source tapes provided by Mkl Anderson (Drekka, Dais Records), Jared Cheek (Flannelgraph), Tyler Damon (Thee Open Sex, Tashi Dorji, Darin Gray), John Dawson (Thee Open Sex, Magnetic South), Greg Dixon (Quixod), Phil Elverum (Mount Eerie, Microphones, K Records), & Rachel Yoder (Madera Wind Quintet, Editor - The Clarinet Journal).

"I read an interview with Neil deGrasse Tyson a few years ago about climate change and his approach toward educating the masses on practical matters of science. In it, he referred to an "eternal golden braid" he is attempting to weave between science, humor, and pop culture. It's a noble and murky philosophy, entwining and elevating hard scientific data and history into the zeitgeist with Kardashian goings-on, and Comedy Central Roasts.
A few months after that, I ran into a friend of mine who was reading this enormous book called, Gödel, Escher, Bach: An Eternal Golden Braid. Apparently, it's an entire book about the similarities between math, symmetry, and logic, and how the rules and systems we apply to these ideas are what gives them their meaning.
Around this same time, I had become interested in creating and manipulating cassette tape loops. I had recently finished working on a more pop-oriented record with my name written largely on every aspect of it and wanted to be involved in some musical collaboration where I wasn't in total control. I contacted a short list of a few friends - folks I admired and thought would be receptive to the idea - and asked them for a five minute cassette tape of literally anything they wanted to record. Once I received all of the tapes in the mail, I made individual, random tape loops of varying length out of each of them. Then, using 6 cassette decks, a few effects, and a mixing board, I combined all of the sounds together into a 20-minute live mix. I did this process a few times (including before a live audience), before I felt comfortable enough to record it. Each performance is completely different from the last.
I can't necessarily explain why all these ideas seem so related to me, aside from the obvious touches of free association and timing. But, this record feels like a very specific snapshot of a time in my life, and of my relationships to a few people and the world I live in. I hope the way it feels and sounds combines with this information about how it was made to give it some sort of lasting meaning."
- Mike Adams, February 2017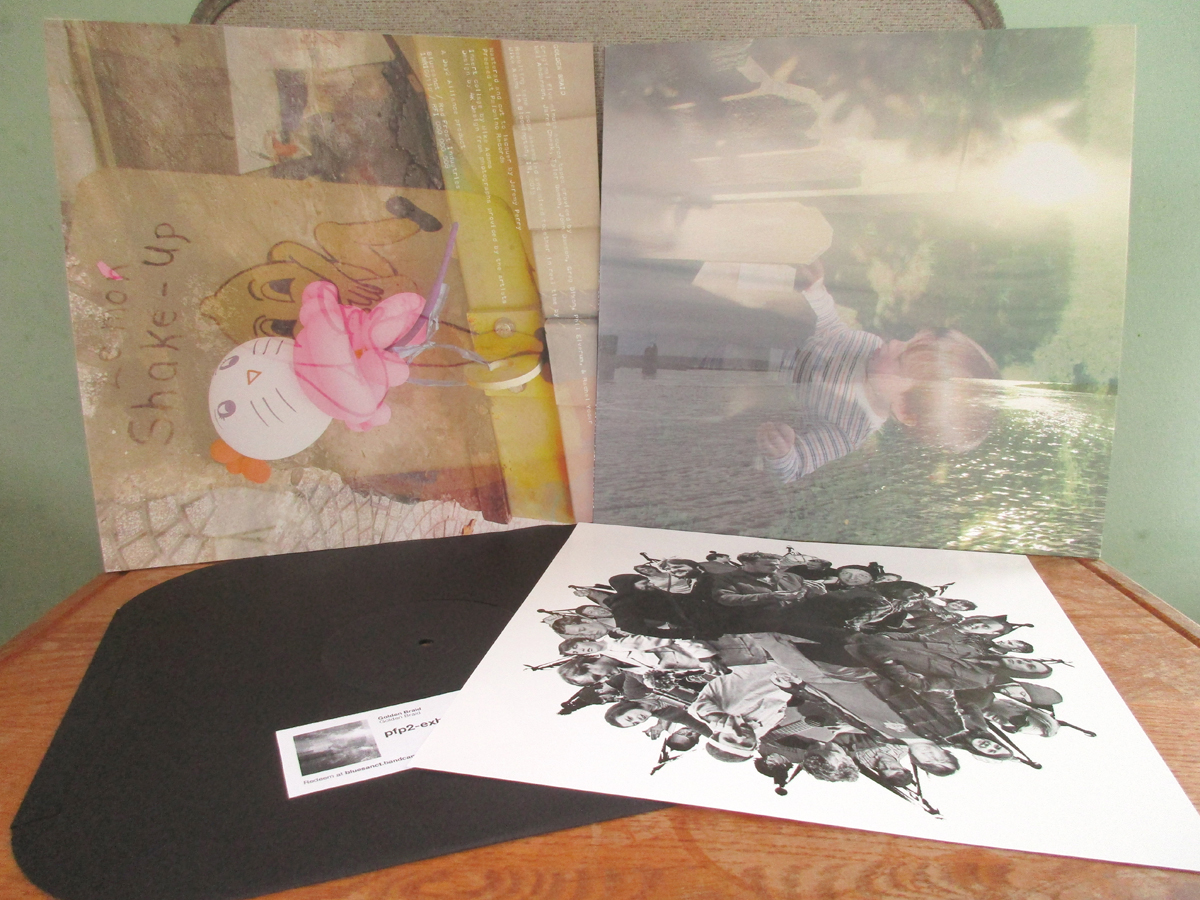 ---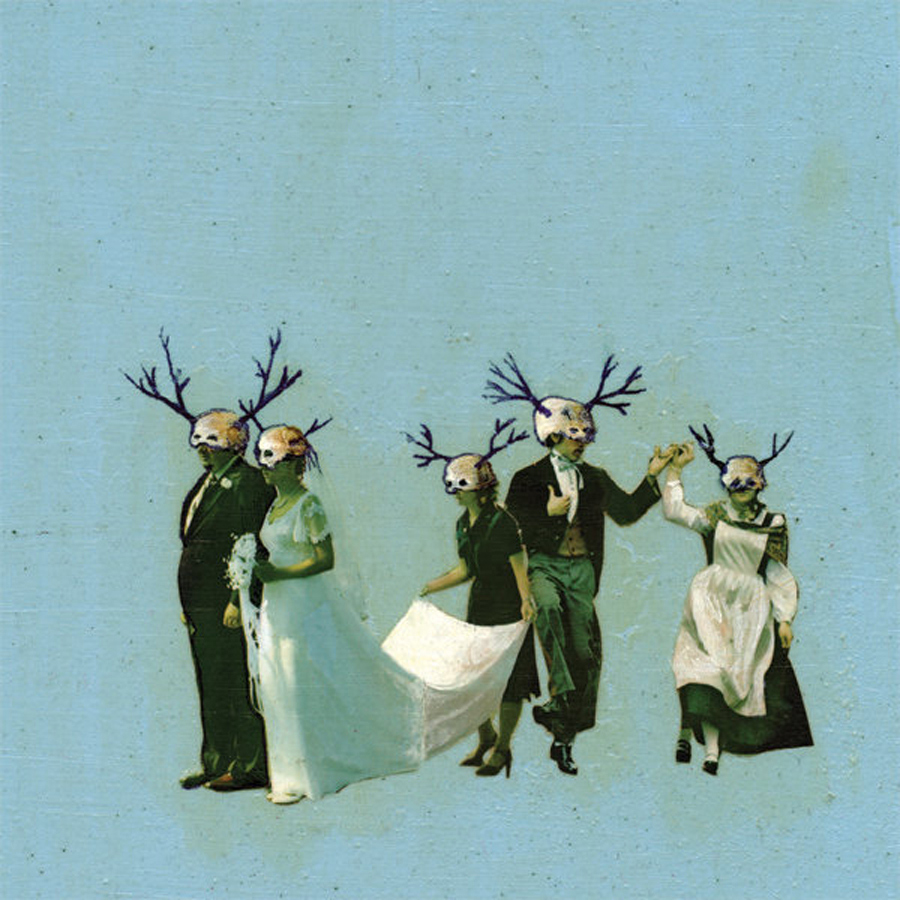 TURN PALE - 'Mock Trial / Hung Jury' LP
(Duchess Archives, DA003, 656605960319)
LP w/ insert + download
edition of 500 copies
RELEASE DATE - FEBRUARY 13th, 2007
MAILORDER PRICE - $14.00 USD

TURN PALE - PRESS RELEASE
For more than ten years, TURN PALE (from Bloomington, Indiana) explored the corners of the dancefloor, with a decidely punk asthetic; opting to caress the dark, Rough Trade/Factory sound from the early 80's post-punk/goth movement. Darkness which did not necessitate evil.
DEATH DISCO equaling 3 parts Factory, 1 part 4AD, 1 part Mute.
"Turbulent, striking post-punk that remains uptempo and danceable (think: THE BIRTHDAY PARTY, VIRGIN PRUNES, THE POP GROUP, PiL). Lockstep, bass-heavy midtempo rhythms anchor piercing guitar chords and drones, all accented by an unhinged vocal performance. " - Temporary Structures
"A plain-clothes group of musicians that coin a style reminiscent of The Birthday Party and Joy Division, I was psyched to hear something so raw and genuinely inspired by the old school produced from a new band" - Starvox
TURN PALE formed in summer of 2000 by Pete Schreiner (bass), Marty Sprowles (drums), Nick Quagliara (guitar) and Michael Anderson (vocals).
Following the self-released 'CHANCE' 7" in April 2002 on Anderson's Bluesanct label, TURN PALE's debut full-length, entitled 'KILL THE LIGHTS', was released in June 2003 on the WHAT ELSE? RECORDS label.
Pete left the group shortly before the release of the album to join Magnolia Electric Co., and Chris Lombardi joined on bass in April 2003.
The 'FILMS WE LIKE' 7" was issued in May 2004 on RUFFIAN RECORDS, a label out of DC run by Hugh of Black Eyes. TURN PALE then took a sabbatical from touring to work on their epic second full-length, entitled 'MOCK TRIAL / HUNG JURY', issued on vinyl in February 2007 on NYC/Berlin post-punk label Duchess Archive.
Known for a highly energetic live show, TURN PALE toured the US several times in the over the years with friends such as BLACK EYES (Dischord), LOVE LIFE (31G) and RADIO BERLIN (Action Driver).

This long out-of-print LP is back in stock for a short time and in very limited quantities.
---

STAY INFORMED:
up-to-the-minute info... 'follow' and 'like' us!
BLUESANCT FACEBOOK - http://facebook.com/bluesanct
BLUESANCT TUMBLR - http://bluesanct.tumblr.com
BLUESANCT BANDCAMP - http://bluesanct.bandcamp.com